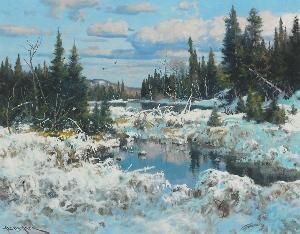 Alexis Arts
See this artist's artworks
---
Alexis Arts was born in Holland in 1940. He began his apprenticeship in painting at a very early age, under his father's guidance Dorus Arts (1901-1961). Once in Montreal in 1955, he continues his studies at L'École des Beaux-Arts de Montréal up to 1960.
Owner of a baccalauréat de l'École des Beaux-Arts de Montréal, the artist teaches painting at the Univeristy of Concordia since 1990. Sir Arts is a membre of the Royal Canadian Academy of Arts (RCA)
He his represented in many corporate and private collections in Canada, as well as in the United States and in Holland.
Artist type:
Painter
Statut de l'artiste :
Contemporary
Style de l'artiste :
Landscape/cities
Nationality
Canadian (1940 - ) Born in Netherlands