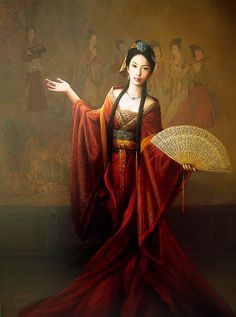 Dongmin Lai
See this artist's artworks
---
Painting in what could be described as an "Old Masters" - almost Renaissance - style, Dongmin Lai demonstrates a mastery of brushwork that is both direct and spontaneous. Many of his works depicting a rural lifestyle in China make it appear almost medieval in its apparent lack of modernization.
Born in China in 1957, Dongmin received a Bachelor of Fine Arts degree from Beijing Teacher's University and studied at China's Academy of Fine Arts. In 1986 he became a member of the Chinese Fine Art Association and proceeded to hold several shows in the National Gallery and the Capitol Museum in Beijing. Two of his paintings were chosen for the Museum's permanent collection. In October of 1991 he was awarded China's prestigious Silver Medal for oil painting.
Dongmin Lai paints in very deep, rich colours and as well as his scenes of country life, he paints Chinese landscape, including the canals of Suchow, and exquisite, finely detailed portraits.
He has been painting professionally for about sixteen years, the last four of which have been spent in British Columbia. His work may be found in private and corporate collections in China, Singapore, Taiwan, Japan, the United States and Canada
Artist type:
Painter
Statut de l'artiste :
Contemporary
Style de l'artiste :
Personna/animals
Nationality
Chinese (1957 - ) Living in Canada