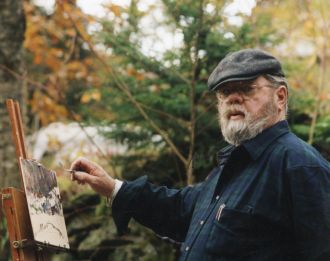 George Carpenter
See this artist's artworks
---
He was born on December 13, 1928, the son of George Gilis and Daisy Winifred Carpenter. He married Virginia A. Forsyth on October 14, 1966, and makes his home in Ogunquit, Maine.
A painter of impressionist watercolor landscapes, George Robert Carpenter has exhibited in the U.S., Canada and abroad, including at the American Watercolor Society; the National Academy of Design; Allied Artists of America; the Salmagundi Club; National Arts Club; American Artists Professional League; Hudson Valley Art Association; and the Hammond Museum. Other group shows were at the Anchorage Fine Arts Museum, Black Hills State College, Copley Society and many more.
Carpenter relocated to Maine with his wife, Virginia, an artist herself, in 1963. He opened his own gallery in 1983 in Perkins Cove in the current location of Beth Ellis studio gallery on Perkins Cove Road. Carpenter's work, like Ellis,' reflects a deep love and appreciation for New England and the Maine shore. They are both part of a long line of artists since the turn of the century who have continued the tradition of Perkins Cove as an artist community.
Carpenter was a prolific painter and an active member of the Rockport Art Association. Carpenter painted outside his studio in Perkins Cove regularly, and was a fixture in the cove, becoming known as "the mayor of the Cove." Painting in front of his studio when he took ill, Carpenter passed away on June 18, 2006.
Artist type:
Painter
Statut de l'artiste :
Master and/or Historical
Style de l'artiste :
Landscape/cities
Nationality
American (1928 - 2006)