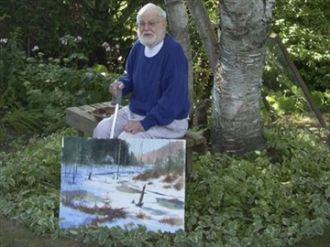 John Joy
See this artist's artworks
---
Born in 1925, John Joy, was one of a few comtemporary artists devoted to the art of on-the-spot painting of the Canadian landscape. In a time when the camera dominates as the intermediary between the subject and the artist, Joy did away with this unnecessary filter. The subtle variations in light within his watercolours and acrylics are a direct result of this method of working. No camera could interpret the translucency of sky and snow with the depth of perception that Joy displays in his art. The same is true of his tremendous sense of colour. The kind of visual truth that John Joy presents in his work can only be achieved by direct contact with nature and its studious contemplation.
This method of working was favoured by both of his renowned early mentors, Doris McCarthy and Carl Schaefer. John Joy was a founding member of the Society of Canadian Artists and was a member of the Toronto Arts and Letters Club. He has also exhibited with the Canadian Society of Painters in Watercolour. His work can be found in numerous private collections throughout Canada and Europe.
John passed away on January 14th, at the age of 86.
Artist type:
Painter
Statut de l'artiste :
Master and/or Historical
Style de l'artiste :
Landscape/cities
Nationality
Canadian (1925 - 2012)