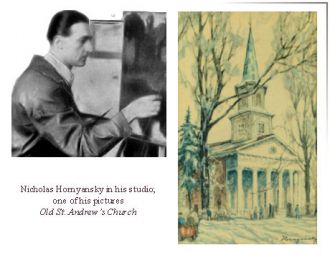 Nicholas Hornyanski
See this artist's artworks
---
Born in Budapest, Hungary, in 1896, he studied portrait painting at the Academy of Fine Arts in Budapest. By the age of 16, he was already exhibiting at the Grand Salon of Budapest. At 23, Hornyansky immigrated to Belgium and travelled to Holland and England, where he painted many prominent figures of the time, including Belgian WWI hero Joseph Cardinal Mercier and British natural scientist Baroness Miriam Rothschild. He later went on to study printmaking in Munich, Vienna, and Paris.
In 1929, Hornyansky and his family moved to Canada, where they settled in Toronto. Although arriving at the onset of the Great Depression, Hornyansky's reputation in Europe preceded him and, after an initial exhibition of his works, he gained widespread acclaim from critics and fellow artists. Hornyansky was soon elected to the membership of the Canadian Society of Painters, Etchers, and Engravers and to the Graphic Art Society, and he began participating annually in exhibitions of the Royal Canadian Academy, the Ontario Society of Artists, and the Art Association of Montreal (which became the Montreal Museum of Fine Arts in 1948). His work was also well-known in the United States. In 1932 and 1933, he won two international printmaking awards consecutively from the American Federation of Art, and his work was shown in exhibitions of many American printmakers associations, including the California Printmakers, the Northwest Printmakers, Seattle, the American Academy of Design, the Society of American Etchers, New York, and the American Colour Print Society of Philadelphia, of which he was a member. He also became a regular exhibitor in Toronto art galleries, showed in several major American and European cities, and took part in the 1939 World's Fair in New York City.
In 1943, Prime Minister Mackenzie King asked Hornyansky to create a colour etching and aquatint for the Second Quebec Conference, one of two meetings hosted in Canada at which the Allies plotted out their strategy to end World War II. British Prime Minister Winston Churchill and U.S. President Franklin Roosevelt received the first 2 copies of the print, titled Quebec from the Citadel, as gifts.
Hornyansky used his growing notoriety to promote the arts in Canada, giving many lectures across the country on their social, political, and economic importance. He believed in the value of offering people the opportunity to make and enjoy art and recognized the community centre, which was a new development following WWII, as a cultural hub for greater public participation in creative activity. As a member of the Artists Economic Assembly (AEA), he wrote a treatise that imagined "Art as an everyday utility," an integral part of the country's social fabric after World War II, and remarked:
We feel that Canada has advanced from the state of a dependent Dominion into that of a second rate political power. Its civilization is progressing rapidly into a level corresponding to this new standing, but its cultural level is far behind requirements. [… W]e artists want to become an asset to our country. (From the AEA Memorandum)
Many of Hornyansky's inspiring lectures were often accompanied by demonstrations of his single-pull, multicolour aquatint etching process, a difficult one-plate process of printing all the colours at one 'pull' which he developed in Paris and brought to Canada. Using this technique, one plate could make as many as 1000 prints. Hornyansky continued to champion his single-pull aquatint, the positive approach aquatint and the relief etch print processes as an instructor of printmaking at the Ontario College of Art, where he taught from 1945 to 1955.
This print, Parliament Hill (Ottawa), is an excellent example of Hornyansky's signature style as he was best known for his coloured etchings and aquatints of the Ontario, Quebec and Maritime landscapes. Here Hornyansky develops and combines colours to build his composition and enliven the drama of the scene. The work also demonstrates his masterful treatment of water and his ability to capture the play of light on clouds.
Today, Hornyansky's art can be found in the Royal Ontario Museum and the National Gallery of Canada, as well as the City of Burnaby Permanent Art Collection.
*Aquatint is an intaglio printmaking process that uses tonal gradations to make an image rather than lines. In this technique, which creates a flat tone, texture or water wash, the artist covers a metal plate (usually made of copper or zinc) with fine resin dust particles, leaving some of the metal exposed. The plate is then placed in an acid bath, and the acid bites the plate, etching the areas in between the particles and creating a tone when printed.
Artist type:
Painter
Statut de l'artiste :
Master and/or Historical
Style de l'artiste :
Landscape/cities
Nationality
Canadian (1896 - 1965) Born in Hungary