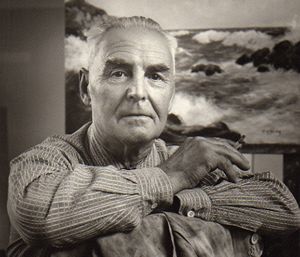 Roland Gissing
See this artist's artworks
---
Roland Gissing was born in Willersey in the county of Worcester, England on 14 May 1895. The artistic side of his nature came from his father Algernon Gissing, a well known novelist, who was the brother of the quite famous writer, George Gissing. With the exception of a few years art instruction at George Watson's College in Edinburgh during the early 1900's, Gissing is almost entirely self taught. Introduced to the phenomenon of the "moving picture" while in Edinburgh, he made visual contact with the freedom of the western frontier and the world of the cowboy. The west became the country of his dreams.
Arriving in Calgary, Alberta in the spring of 1913 an 18 year old Gissing came to Canada and for more or less the next ten years followed the life of a cowboy, taking life as it came, from the Peace River country as far south as Mexico working on various ranches along the way.
While in Montana Gissing met Charlie Russell the famous cowboy artist who nodded approval of Gissing's early sketches depicting life on the range. In Nevada he met Will James, the cowboy writer of western stories who also gave Gissing considerable encouragement.
It was the fall of 1923 that he was fortunate enough to find an open homestead on the east bank of the Ghost River west of Cochrane, Alberta. The beauty of the foothills and Rockies decided the location for him and a fortunate one it was. His fondness for sketching and drawing had grown and with a rising need to test his ability he wanted to try painting for a living.
And so it was that Roland Gissing would become one of Western Canada's most prolific artists until his passing in September, 1967. His realistic portrayal of the western landscape is today prized and honoured by many."Many times Roland was asked "How long would it take you to paint a picture like this?" His answer was, "About thirty years." It did take thirty years or longer to get the effect he wanted in a picture. Seldom was he completely satisfied with any of his paintings. He hoped he would live long enough to finish one picture that would please him. He could always see where improvement could be made in depth, atmosphere or color. In a few cases he would say the foreground or clouds or some other part of a picture came off quite well. He would never say "I can't improve this picture" . At times a picture would be put away for days, sometimes months before it was finished because it didn't please him. Then, he would bring it out and set it on an easel to criticize it. Sometimes the picture would be finished, other times discarded as impossible to change or improve.
To him the wild flowers and open country were always a joy to look at. Every day that passed made him aware of the beauties of nature. For more than fifty years he called himself a Canadian and never said he wanted or wished he could go back to England. He never did go back, not even for a visit because he couldn't bear to miss a spring, fall or winter in Alberta."
- Ester Gissing
Artist type:
Painter
Statut de l'artiste :
Master and/or Historical
Style de l'artiste :
Landscape/cities
Nationality
Canadian (1895 - 1967) Born in England